প্রিন্ট এর তারিখঃ ডিসেম্বর ৬, ২০২৩, ৪:৩৬ পি.এম || প্রকাশের তারিখঃ জানুয়ারী ৮, ২০২৩, ৫:৩৭ পি.এম
'Andaman teal' eating picnic; Post edited in the face of protest!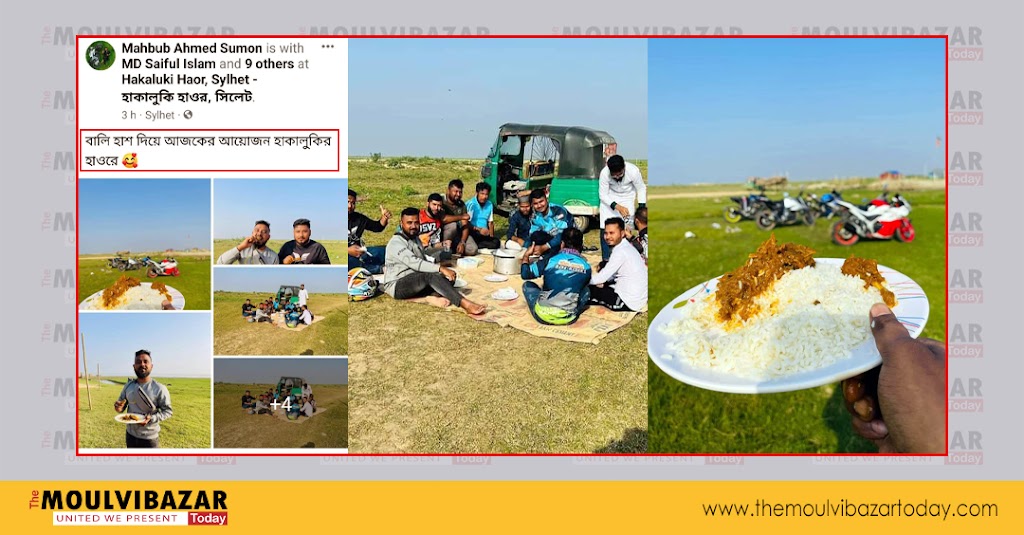 "Today's arrangement with Andaman teal(migratory birds) is Hakaluki Haore" thus, some youths of the biker community of Kulaura of Moulvibazar said on their Facebook wall that they feasted on migratory birds protected under the Wildlife Act. Environmental activists reacted strongly when their Facebook post of eating birds went viral. Even they also demanded punishment.
According to local sources, after Friday afternoon, 9 friends along with Mahbub Ahmed Sumon, director of Manaf Telecom of Kulaura Milli Plaza, and Anaf Shariar of Vukshimul area, had a picnic eating migratory birds at Hakaluki Hawar on their Facebook wall. Later, they share information about eating Andaman teal with photos and videos of the feast on their Facebook wall.
Later, when the protest started, they edited the post and wrote "Haas" and took photos of Haas from the local market, and claimed to have eaten Haas. And those who protested were threatened in groups. At the same time started cyber bowling activities on Facebook. They are also seen making bad comments and replying to various posts with their friends.
One of the protestors, Moulvibazar District Chhatra League Organizing Secretary Sakibul Hasan Rajib said, I made a comment on Facebook to condemn their actions, but then they started attacking me personally in a group with their community. They promoted themselves and ate the ballyhoo but after the protest started, when they realized it was wrong, instead of admitting the mistake, they started a personal attack with a photo of the local bazaar laughing. They should be punished.
A protester is a representative of Cyber Safety First Bangladesh. He said 'I have asked for justice for the killing of migratory birds by screenshotting their post only on Facebook. In this case, they have used unbridled language in the comments. I have killed all the screenshots. They didn't just commit a crime. They have also committed various cyber crimes starting from Cyberbullying. They must be punished.
The matter has given rise to a lot of discussion in Moulvibazar, but the forest department is still silent on this matter.
Divisional Officer of Wildlife and Nature Conservation Department Rezaul Karim Chowdhury said that we have come to know the matter. The issue would not have come up if the environmentalists had not protested. Bird eating is a punishable offense and a case will be filed by the forest department and it is under process.
TMT/Kamran/Mubin
---
Syed Mujtaba Ali Road, Moulvibazar-3200

©2023 The Moulvibazar Today