প্রিন্ট এর তারিখঃ ডিসেম্বর ৫, ২০২৩, ৮:৩১ পি.এম || প্রকাশের তারিখঃ ফেব্রুয়ারী ১১, ২০২৩, ৯:০৫ পি.এম
Free eye camp in Kulaura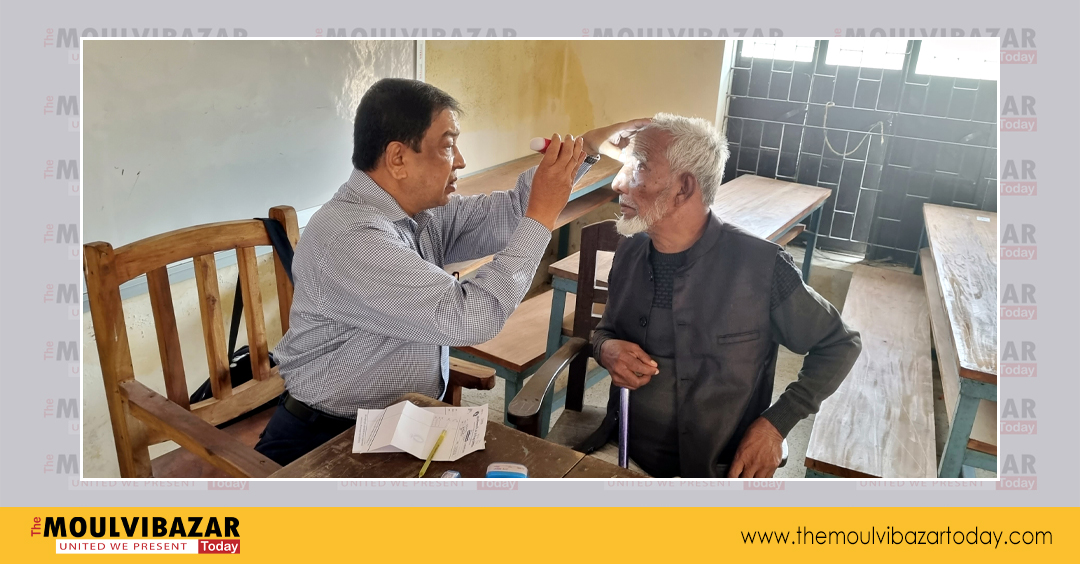 A day-long free eye camp was completed at Vukshimail School and College on Saturday under the initiative of Hakaluki Jubo Sahitya Parishad, the largest literary organization of Kulaura Upazila and in collaboration with Moulvibazar BNSB Eye Hospital.
About 500 patients from different areas were treated in the eye camp, 20 patients were operated at Moulvibazar BNSB Eye Hospital and other patients were given prescriptions.
Under the chairmanship of the organization's president writer and teacher MS Ali and the direction of general secretary journalist Hussain Ahmed, Vukshimail School and College Principal Mr. Abul Mansur, Kulaura Upazila Awami League Agriculture and Cooperative Affairs Secretary Moinul Islam Suhag, Social Worker Manik Miah, Vice President of Hakaluki Youth Literary Council Md. Nazrul Islam, Ruhel Ahmed, Efrul Islam Ruhin, Naemul Islam Russell, Shahriar Ahmed, Tahmid Ahmed, Zubair Ahmed, Ashraful Alam, Abdullah Al Mamun, Redwan Hussain, Sharmin Begum and others were present at that time.
Doctors and officers from different levels of Moulvibazar BNSB Eye Hospital were present in the medical service. Social workers and public representatives from different walks of life were also present.
TMT/Desk/Ruhan Ahmed
---
Syed Mujtaba Ali Road, Moulvibazar-3200

©2023 The Moulvibazar Today