প্রিন্ট এর তারিখঃ ডিসেম্বর ৬, ২০২৩, ৬:০০ পি.এম || প্রকাশের তারিখঃ মে ২৭, ২০২৩, ৮:৩২ পি.এম
Hridi from Kulaura in the main stage of Channel-I Sera Kantha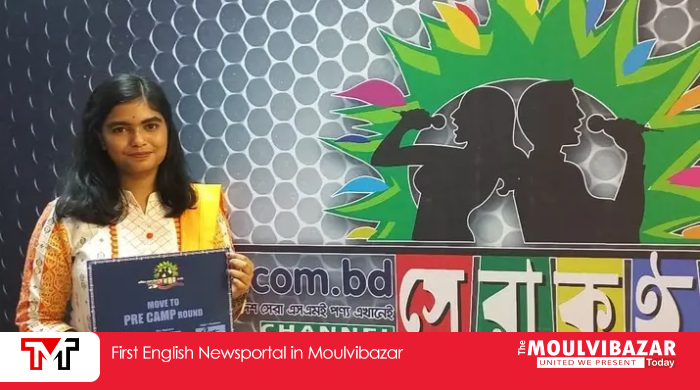 Country's biggest competitive music reality show 'Channel-I Sera Kantha-2023' is running on Channel-I. This reality show started in 2008 to bring out the talented artists of the country. This season has started for the eighth time this month.
In the beginning, the artists selected after screening at the divisional level are given opportunities at the national level. The preliminarily selected artistes are given the opportunity to perform in the grand audition, which is broadcast on television. The best performers in the Grand Audition will be given the opportunity to perform in the main stage and the main competition will be started.
This time the talented artist 'Rajshree Chowdhury Hridi' of Baramchal Union of Kulaura Upazila of Moulvibazar took place in the main stage of 'Channel I Sera Kantha 2023'. In the beginning, he won the hearts of the judges at the divisional stage and made it to the national stage. Likewise , She showcased her talent there and made her way to the grand audition. She performed Nazrul Geeti in the national stage and got praised by the judges.
Yesterday Friday (May 26) at 7:50 PM, Hridike was seen singing in the episode aired on Channel-I. Hearing her song, judge Samina Chowdhury burst into tears. Impressed by the melody and rhythm of Hridir's songs, Samina Chowdhury herself expressed her desire to learn that tune from her. At the same time, another judge Rezwana Chowdhury Banya also praised her. He also handed over the certificate of participation in the main episode of 'Sera Kantha-2023' to Hridi.
Rajshree Chowdhury Hrid's house is in Itakhla village of Baramchal union of Kulaura upazila. Currently she is studying in 12th standard in Sylhet Scholarshome College. She sought prayers and blessings from everyone so that she can continue her performance.Her success is rejoicing throughout the area.
Kamran/Ruman
---
Syed Mujtaba Ali Road, Moulvibazar-3200

©2023 The Moulvibazar Today