প্রিন্ট এর তারিখঃ ডিসেম্বর ৬, ২০২৩, ৫:৩৮ পি.এম || প্রকাশের তারিখঃ মে ২৪, ২০২৩, ১:৫৫ পি.এম
Kulaura teacher Khurshid Ullah received meritorious award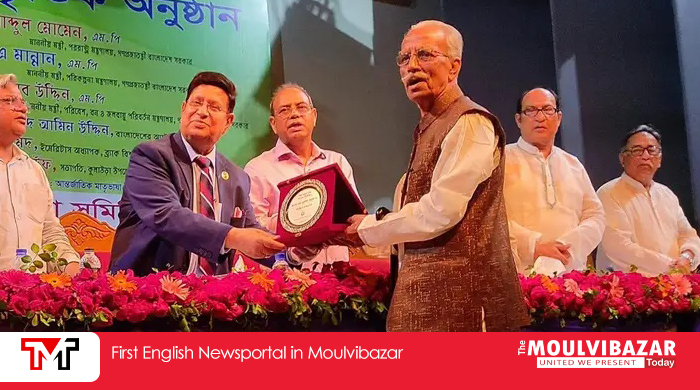 Md. Khurshid Ullah, former head teacher of Kanihati High School and prominent educationist of Baramchal Union of the upazila, has been awarded with meritorious honor for his outstanding contribution to the education sector of Kulaura.
Last Saturday (May 20) this award was given at the International Mother Language Institute auditorium of the capital under the initiative of the Kulaura Upazila Association of Dhaka.
President of Kulaura Upazila Samiti Abdur Rauf spoke as the chief guest Dr. AK Abdul Momen.
Planning Minister MA Mannan, Bangladesh Awami League Organizing Secretary Shafiul Alam Chowdhury Nadel, former Member of Parliament of Moulvibazar-2 Constituency MM Shaheen, Mayor of Kulaura Municipality Shipar Uddin, Upazila Awami League President Rafikul Islam Renu along with other leaders of Kulaura Upazila Samiti were present as special guests in the presence of Organizing Secretary Barrister Abu Sadek Abdullah and Treasurer Tamim Marjan Huda.
---
Syed Mujtaba Ali Road, Moulvibazar-3200

©2023 The Moulvibazar Today