প্রিন্ট এর তারিখঃ ডিসেম্বর ৬, ২০২৩, ৫:৫০ পি.এম || প্রকাশের তারিখঃ জুন ৮, ২০২৩, ৩:১৪ পি.এম
Lionel MESSI Announces incredible move to MLS!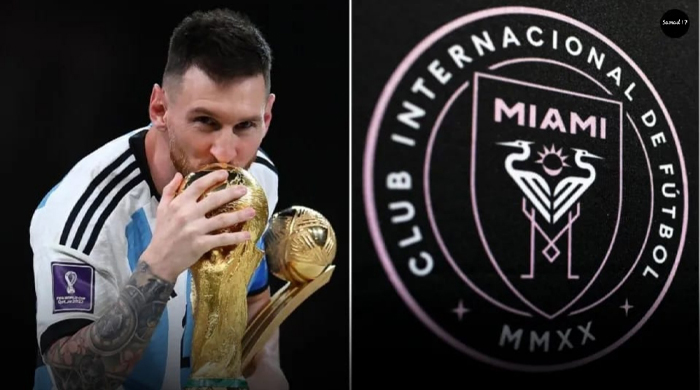 Lionel Messi confirmed he will be moving to Inter Miami in what is set to be the biggest transfer in the history of MLS.
Following weeks of speculation and links with Barcelona and clubs in Saudi Arabia, the World Cup winner will now play in the United States.
"I'm not coming back to Barça. I'm going to Inter Miami," said Messi in a press conference on Wednesday. "I wanted to return to Barça but not leave my future in the hands of someone else."
– Wednesday, 7 June 2023

"Although I heard that it was said that La Liga had accepted everything and that everything was fine for me to return, there were still many other things that had to happen."

"I heard that Barcelona had to sell players or lower player salaries and the truth is that I didn't want to go through that."
After a tearful departure from Barcelona in 2021, many outlets linked the 35-year-old with a move to Miami to join the club co-owned by David Beckham.
Messi opted for France and Paris Saint-Germain instead, but a two-year spell there has now come to an end and he now becomes the latest superstar to join MLS, following the likes of Zlatan Ibrahimović, Gareth Bale, and Beckham himself.
As well as leading Argentina to World Cup glory in December, Messi finished 2022/23 with 21 goals and 20 assists in 41 appearances for PSG and was the only player in Europe's top five leagues to register over 15 goals and 15 or more assists across the campaign.
Looking ahead to his time in America, the link-up with serial goalscorer Josef Martínez (currently 10th on MLS' all-time scoring charts) will be a partnership to watch.
Kamran/Samad
---
Syed Mujtaba Ali Road, Moulvibazar-3200

©2023 The Moulvibazar Today