প্রিন্ট এর তারিখঃ ডিসেম্বর ৬, ২০২৩, ৫:৫৪ পি.এম || প্রকাশের তারিখঃ জুন ২৮, ২০২২, ৬:৫১ পি.এম
Mahi won the President's Scout Award at the national level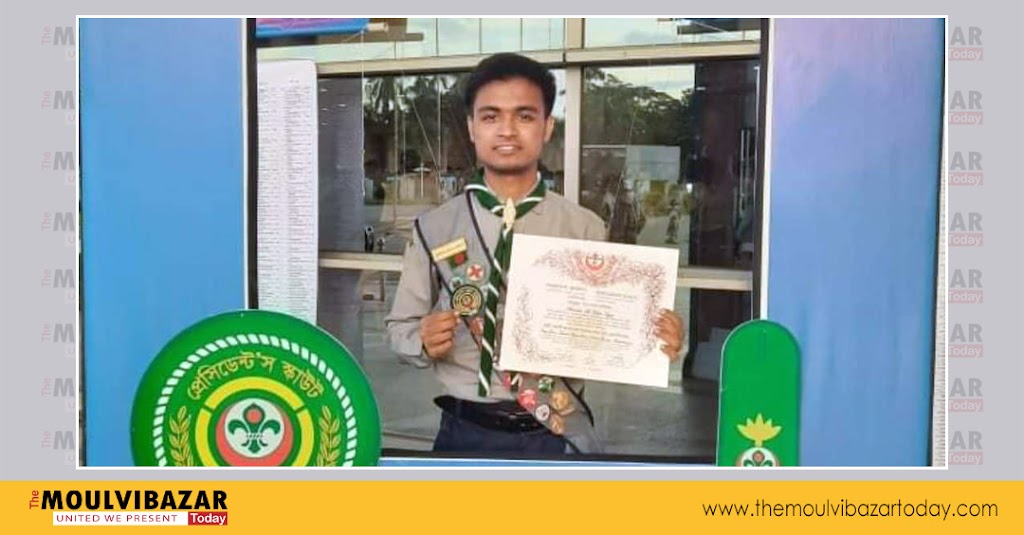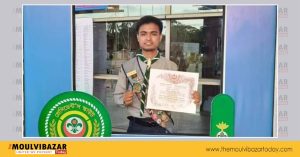 Staff Reporter::
Abdullah Al Mahi Azizi, a scout at Juri Government Model High School in Moulvibazar, has won the President Scout Award, the highest honor of the Bangladesh Scout.
At the 50th Annual Conference of Bangladesh Scouts at the Bangabandhu International Conference Center (China-Friendship Conference Center) in the capital on Monday (June 26), the 2019 batch of PS Award winners were officially given awards and certificates at a ceremony inaugurated by His Excellency the President.
Abdullah Al Mahi had previously led the Juri Government Model High School Scout Group for a long time. The latest was in charge of the senior patrol leader.
The colorful scouts have taken part in scout camps and various training activities at the national and even international level starting from Upazila, district, and region.
It is learned that this highest award has to be achieved through written, oral, practical, and swimming examinations at the district, region, and national level by being selected in a long-term process.
It is to be noted that beyond the boundaries of the Upazila, he has not only achieved success at the national level but has also left an impression of success at the international level. Abdullah Al Mahi participated in the 24th World Scout Jamburi in the United States as a member of the Bangladesh Scouts delegation. Where he had the good fortune to meet with UN Secretary-General Ban Ki-moon. He was also selected as the representative of Bangladesh Scouts in the 5th Swedish Scouts Jamburi in 2016. Although later visa complications did not go away.
Mahi is currently studying in class XII at the renowned Dhaka City College and is associated with the Rover Scout Group (Dhaka City College Rover Scout Group) of the same college.
Asked about his feelings after the award, Abdullah Al Mahi said, "Receiving the President's Scout Award is the greatest achievement of my life. From the beginning of my life as a Scout, I have always dreamed of this honor. Alhamdulillah, this dream has come true. I would like to express my sincere gratitude to all the former and current members of the Scout Team of Juri Government Model High School, including the Commissioner and Secretary of the Upazila Scouts.
Mahi said, "I hold the ideals of scout in my heart and pray for everyone so that we can continue with scouting for the rest of our lives."
TheMoulvibazarToday/Desk/Kamran
---
Syed Mujtaba Ali Road, Moulvibazar-3200

©2023 The Moulvibazar Today