প্রিন্ট এর তারিখঃ ডিসেম্বর ৬, ২০২৩, ৬:১৫ পি.এম || প্রকাশের তারিখঃ ফেব্রুয়ারী ১৫, ২০২৩, ৬:৪৮ পি.এম
Palash's reign in the spring!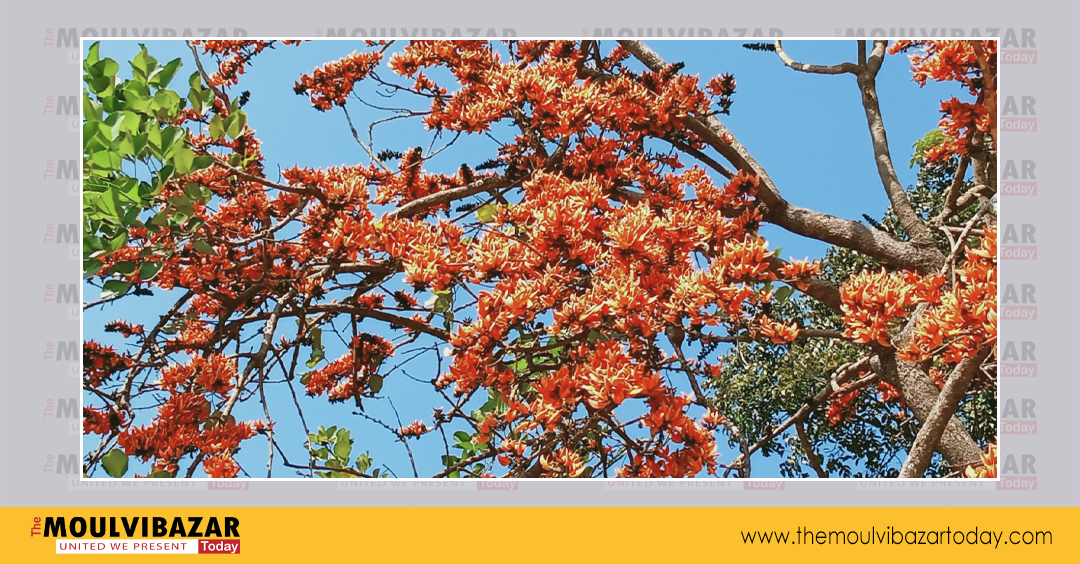 Palash is alson know as 'Flame of Forest'. Its scientific name is Butea monosperma. This tree is a member of Fabaceae family. The color of Palash flower is yellow, red and reddish orange. The Palash tree is best known for its flowers. The king of the Bengali season, Basant, starts with the celebration of Pahela Falgun. Nature is decked up in joyful colors to welcome Spring.
Palash flowers bloom in the spring. It is a medium-sized deciduous tree. The tree grows up to 15 meters high. It blooms in bunches. Palash flowers are 2 to 4 cm long. The buds look like tiger claws. The branches are crooked. New leaves are silky smooth. All the leaves of the tree fall in the winter season and new leaves start growing in the summer season. The tree is leafless during flowering. From a distance, it looks like the tree is on fire. Everyone likes the beauty of Palash. It Attracts people's attention even from a distance.
The addiction of Palash is intense, Palash flower blows everyone's mind at least once. It is difficult to find someone who is not entwined in love of Palash flower. In the spring, the flowers bloom in the forest. However, the season of the great fleeting Palash remains for 20-25 days. It disappears so fast that its beauty cannot be perceived wholeheartedly. It is as fleeting as the frenzy of youth. Even if this momentary happiness is gone, the memory remains for a whole year. We look forward to another spring with that memory.
Spring means the festival of flowers and flowers means the alliance of colors, and that is how the nature gets the touch of spring. After a long wait, everyone welcomes the Basant. And in nature, fire-dropping flowers indicate that spring is coming. At this time, the beauty of Palash flowers can be seen from a distance like fire in the water. The surroundings are full of birds chirping. When spring comes, the spring flowers stir in everyone's mind. This is like the reign of Palash in spring.
More or less Palash flowers can be seen almost everywhere in the villages and towns of Bengal. Children play with flowers under the Palash tree in the village. Children put flowers in each other's ears. This scene of rural Bengal is worth seeing.
Among the three types Palash, yellow Palash originated in India. The plant can withstand a lot of trouble. Palash blooms without care even in rough and dry soil. New seedlings can be made from tree seeds. So the initiative should be taken to collect the seeds from the tree and plant them in all the parks and tourist centers of the country.
Journalist and photographer Kamran Ahmad said, "Palash tells that spring has arrived. Everyone should be aware to sustain the endangered Palash. More trees should be planted. Only then the nature will be eternally young."
TMT/Sadi/Shuvo
---
Syed Mujtaba Ali Road, Moulvibazar-3200

©2023 The Moulvibazar Today