প্রিন্ট এর তারিখঃ ডিসেম্বর ৬, ২০২৩, ৭:২১ এ.এম || প্রকাশের তারিখঃ ফেব্রুয়ারী ৯, ২০২৩, ৯:০৬ পি.এম
The king's visit to Bangalipara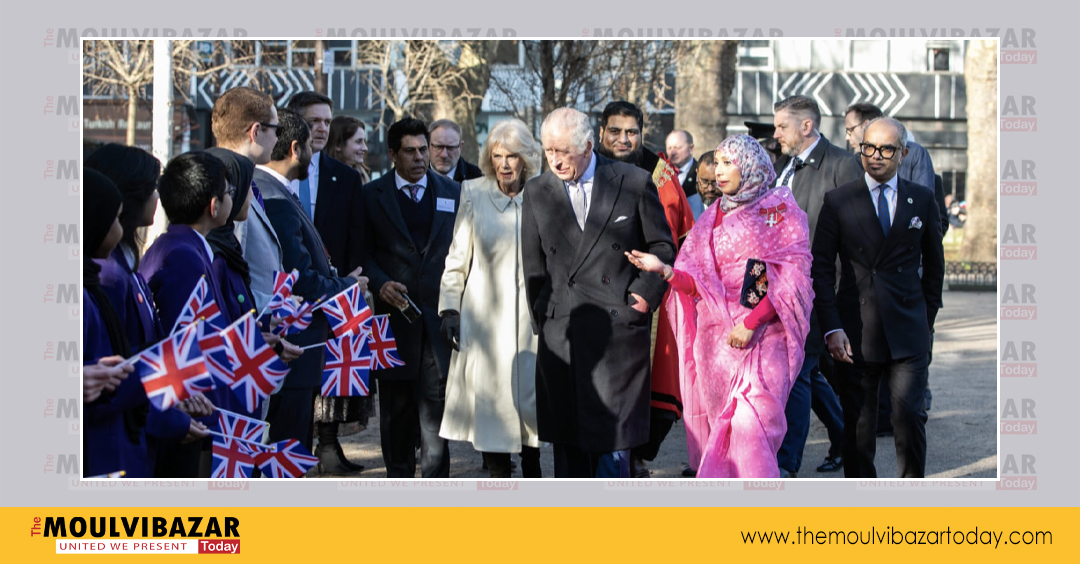 United Kingdom's King Charles III and Queen Consort Camilla arrived in Bengalipara, East London on a ceremonial visit on Wednesday (February 8) around 11:30 PM local time.
The King's ceremonial visit to Bengalipara began on Wednesday with a visit to Altab Ali Park, the home of the anti-apartheid movement in Britain. Here, the king exchanged pleasantries with Bengali activists in the anti-apartheid movement in the sixties and seventies.
Visitors flocked from far and wide to catch a glimpse of the king and his wife in the bitter winter. The king shook hands with visitors and exchanged pleasantries at Altab Ali Park.
Meanwhile, Tower Hamlets Council Mayor Lutfur Rahman welcomed the king on behalf of the council.
Saida Muna Tannim, High Commissioner of Bangladesh posted in Britain, welcomed Ayesha Qureshi MBE, JP, founder of British Bangladeshi Power and Inspiration - BBPI and Councilor Abdal Ullah Raza of Tower Hamlets, the organizer of this visit. At the entrance to Bricklane from Altab Ali Park, hundreds of thousands of local residents welcomed the King and Queen on both sides of the road. Bangladeshi youths greeted the king by singing and dancing.
On the occasion of the King's visit, the entire Bricklane, including the streets, was beautifully decorated. Presentation of Bengali culture was everywhere in that aesthetic.
Later, the king was felicitated with Pitha Puli, a traditional dish of Bangladesh in Bengal Town. The Queen was gifted a Jamdani saree, a monument of Bangladeshi heritage.
TMT/Kamran/Sadi
---
Syed Mujtaba Ali Road, Moulvibazar-3200

©2023 The Moulvibazar Today