প্রিন্ট এর তারিখঃ ডিসেম্বর ৬, ২০২৩, ৬:০৪ পি.এম || প্রকাশের তারিখঃ জানুয়ারী ৩১, ২০২৩, ৬:২৩ পি.এম
The smile of the sun in Hakaluki; More than 1 million people laughed!
The picture shows a field of sunflowers. Six people are standing in the middle. They all work on wildlife conservation. The picture is now quite popular on social media Facebook . Within three days of posting, the reach of the film has spread to millions without any promotion. That is more than 10 lakh people have seen the photo.
Last Friday (January 27) an awareness meeting on migratory birds was held in the Chatla Bill of Hakaluki Haor in the joint initiative of Maulvibazar Wildlife Management and Nature Conservation Department, IUCN and Patharia Wildlife Conservation Team.
After this ceremony, they all visited the sunflower fields of Hakaluki and posted the picture. The picture was posted from the page named Kamrul Hasan Noman. He is a media worker. He works at Daily Ittefaq.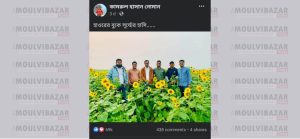 Kamrul Hasan Noman was about the reach of the picture to such remarkable extent.
He said, "As a matter of fact, sunflower oil is used as a substitute for ghee, known as vanaspati oil. This oil is better than other cooking oils and is very effective for heart patients. It is very low in cholesterol. It also contains vitamins A, D and E. Different pictures of my page have reached million plus engagement before. However, the reason behind this picture going viral is the natural beauty of the flowers."
Khorshed Alam, one of the members of the Patharia wildlife conservation team in this picture, said, "Hakaluki , the largest mash wetland in Asia, always attracts the attention of tourists for various reasons, including the arrival of migratory birds in the winter season, the collection of local fish. Apart from the cultivation of various winter vegetables, sunflowers are also cultivated there. The picture caught the attention of nature lovers. All this, this beautiful picture spread through social media in an instant."
TMT/Sadi/Delawar 
---
Syed Mujtaba Ali Road, Moulvibazar-3200

©2023 The Moulvibazar Today