Even the sun that illuminates the whole world is obstructed at one time. But that's temporary!
Cloud's efforts are in vain. Crossing the barrier, the sun will fill his ever-familiar world with light. The whole world will be enlightened.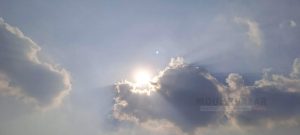 Even in personal life, if you want to reach good goals, such obstacles will be your constant companion. But if one wants to spread light in the whole world, he has to go ahead and overcome obstacles. Success will come. Photo: Mehjabin Bushra from Shomshernagar, Moulvibazar.

More News...